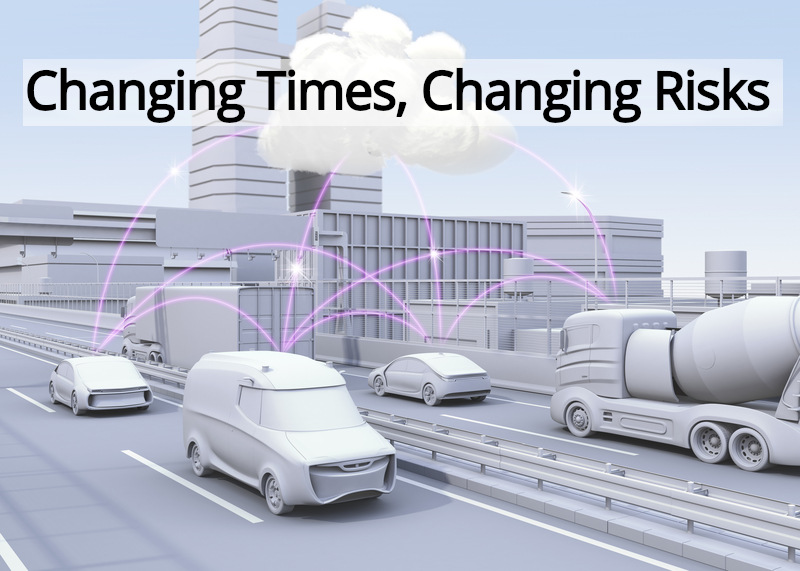 Changing times, Changing risks
Changes to legislation, technology and the economy can all affect current risks. Much changed in 2018 that impacted drivers and fleet operators- we've chosen four areas to focus on.
Driver hour legislation
A number of rules changed on 5 March 2018 that affected lorry, bus and coach drivers. Under the new rules, those that drive tired will be fined and traffic police can issue on-the-spot fines for offences committed in the last 28 days. Driver and Vehicle Standards Agency examiners can issue up to five drivers' hours offences at a time- which means an individual could be fined up to £1,500 for a single check. These changes may see a rise in the number of fines for commercial drivers. However, the measures are designed to make our roads safer and reduce the 40% of sleep-related accidents involving commercial vehicles.
New MOT tests
In May, big changes came in regarding MOT tests. Test results are now categorised into dangerous, major and minor. These changes could make it more difficult for a vehicle to pass its MOT. If a vehicle receives a dangerous or a major fault, it will instantly fail, if it receives a minor fault it will pass, but the fault will be noted on the certificate, as advisories are now. Diesel particulate filters will now be included in the test for the first time and this could have huge ramifications for commercial drivers, as most commercial vehicles run on diesel.
Smart motorways
Smart motorways (which used to be called managed motorways) are those that run over four lanes with gantry signs overhead. They provide real-time (variable) speed limits to better regulate the flow of traffic. The fourth lane can be opened and closed at the road operator's discretion to relieve congestion further.
A new law is coming in and applies to anyone who drives in a closed lane on a smart motorway. It is already illegal, but the new law carries a new fixed penalty for those driving in a closed lane.
Thefts rise
Association of British Insurers, (ABI) data suggests theft volumes are again on the increase. The number of vehicles being stolen has gone up 30% since 2013. In 2013, 66,000 were stolen, that number rose to 86,000 in 2016 and the value of those stolen has been rising. Evidence suggests that vehicles are 'stolen to order' or high-value parts are stolen from them by exploiting newer perhaps weaker electronic locking systems, including circumventing the lock system.
The likelihood of manufacturers shifting to a 'virtual key' (like an app) is already a reality with Mercedes and Tesla. This developing technology that gives the driver convenience with key-less entry also brings additional security risks that can only be addressed by manufacturers.
Insurance companies might end up considering additional security requirements for vehicles fitted with this type of technology and brokers and customers need to be fully aware of any changes in practice.
MotorTradeProtect
Interested in finding out more information about the changes to the motor trade industry, then check out another of our blog posts for more information on  predicting future motor risks.
For more tips and tricks on all things Motor Trade follow us on Facebook, Twitter & LinkedIn. Or for any enquiries regarding a current or future insurance policy visit our website or give us a call on 0800 877 8277
This article originally appeared on Allianz.