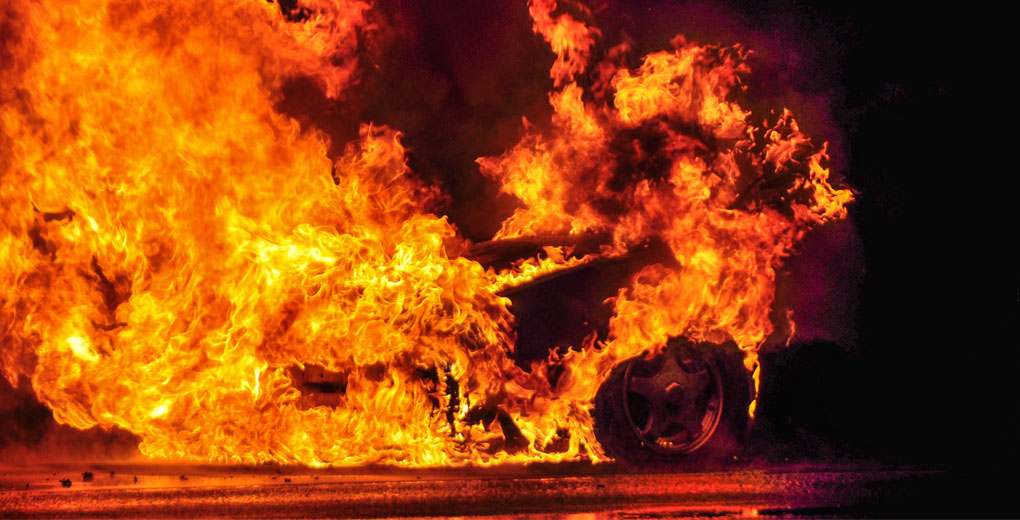 A fire can have a devastating effect on a motor trade business, destroying buildings and stock and even resulting in fatalities. But the nature of the work carried out on motor trade premises, as well as the materials stored there, means that without adequate controls in place there is a huge risk of fire.
Examples from the past few years in the motor trade sector include a fire at AJ Garages in Wallsend, which resulted in damage to the workshop and 10 vehicles, and required the evacuation of 25 homes in the area, and a large fire at Thornton Garage services in Ellesmere Port, where 19 cars were damaged.
While insurance will cover the losses, the time it takes to get the business back to normal can have serious implications on your livelihood. Identifying potential fire hazards and taking steps to reduce the risk will help you to prevent this and make your business more robust.
Fire Risk Assessment
The first step in reducing the risk is a fire assessment. Legally, you are required to have a fire risk assessment of your premises completed by a competent person. This will take into account factors such as the nature of the building, fire detection and alarm systems, previous fires, and then identify the measures necessary to reduce the risk of death and injury.
To help undertake a risk assessment, the government publishes a range of guides. Fire safety Risk Assessment Guides can be downloaded from Here, or Here if you're in Scotland.
Fire Hazards
The presence of fuel, flammable gases and liquids and waste materials means there are plenty of fire hazards within motor trade businesses. These can not only cause a fire but can also increase its severity once it's taken hold.
As an example, the fires and explosions that occur during the emptying of fuel tanks are a major cause of death, serious injury and property damage. Where this activity cannot be avoided it is important to take precautions. These include having a safe area to carry out the fuel retrieval; using the right type of equipment; and ensuring that employees are trained and competent to carry out the work safely.
Additionally, fuel and other flammable liquids are covered by the Dangerous Substances and Explosive Atmospheres Regulations 2002 (DSEAR). This means that if you are using or storing them you will need to ensure you comply with these regulations.
Welding and similar equipment can also be a dangerous hazard, causing around 700 fires a year in commercial properties. To reduce the risk it is essential that any welding is only undertaken by employees who have been fully trained and understand the necessary fire precautions and emergency procedures if a fire does break out. You should also pay close attention to the maintenance of the equipment, ensuring, for example, that any damaged or perished hoses are replaced before they start to leak.
Additionally, although employees can smoke in yards and compound areas, the presence of flammable materials means it's sensible for you to ban it in these areas too. Instead, smokers should be offered legally compliant smoking shelters situated away from buildings and hazardous areas.
Electrical Risks
Attention also needs to be paid to electrical installations and appliances as these can cause fire and electrocution. To ensure they're safe, regular inspections and tests are required, with detailed records kept, to show they have been carried out.
How often inspections need to be carried out varies and more details can be found on the HSE website. For example, with installations it will depend on the condition and how the building is used.
Heating appliances also require special attention. As well as regular tests and inspections, these must be safe and suitable for the environment in which they are used.
It's also sensible for you to avoid using portable or mobile heating appliances if possible as this increases the fire risk and can affect their insurance cover. For example, as these appliances can be moved they could be sited to close to combustible goods; near to where flammable liquids are used; or at risk of being hit by a moving vehicle.
Arson Risk
Arson can also be a problem, with at least half of all fires in non-residential premises believed to be caused by children, vandals or malicious persons. Ensuring adequate security is in place, both for the site perimeter and the buildings, will help to deter would-be arsonists.
You should pay attention to the way combustible items such as waste tyres, bins and pallets are stored outside as these are particularly prone to being set on fire. If close to a building the fire can quickly spread inside so, if they cannot be stored indoors, they should be kept away from buildings and inside lockable containers.
MotorTradeProtect
Interested in finding out more information about motor trade health and safety regulations, then check out another of our blog posts for more information on protecting your business fleet from rising car vandalism.
For more tips and tricks on all things Motor Trade follow us on Facebook, Twitter & LinkedIn. Or for any enquires regarding a current or future insurance policy visit our website or give us a call on 0800 877 8277